Looking to develop your organisational, management, mentoring, coaching and engagement skills to complement your degree or career progression? 
Love football and other sports?
Are you aged 16-22?
This could be the opportunity of a lifetime.
Kickoff@3 are excited to announce that we are looking for Youth Ambassadors to volunteer across the UK pioneering our new mentoring scheme. Please send a brief email to 'connect@kickoffat3.co.uk' expressing the reasons for your interest, relevant experience, what you hope to teach others and learn about yourself.
If selected to progress to the interview stage we will ask you to complete a form tailored to showcase your relevant skills, attitudes and experience.
Good luck!
Become a KickOff@3 referee!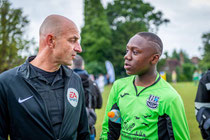 Our Ambassador, newly retired Premier League referee, Roger East is pictured here with a young man who competed in KickOff@3's Daniel De Gale cup. Nothing unusual there, right?
Well, maybe a little – you see this isn't just the wise ref dispensing advice to a keen young player, neither is it a word to the wise about a naughty incident on the pitch.
You see he aspires to follow in Roger's footsteps, as a professional referee, and luckily, Roger's only too pleased to support, mentor and guide him through the challenges ahead. This is an inspirational show of unity across generations, helping the youth to prosper and thrive whilst avoiding the pitfalls and we plan for this to be the first of many varied partnerships.
There are so many opportunities within the beautiful game besides being a player, in these enlightened times both sexes have the chance to emulate Roger, working through the ranks to Premier League Referee (see Roger's biography on our Ambassador tab) or taking their coaching badges and one day manage club or country.
KickOff@3 continues to seek mentors, job and educational opportunities for our young people and will share any news we have on this page.
Contact Michael or Ashley to have an informal chat about how you could get involved with KickOff@3.